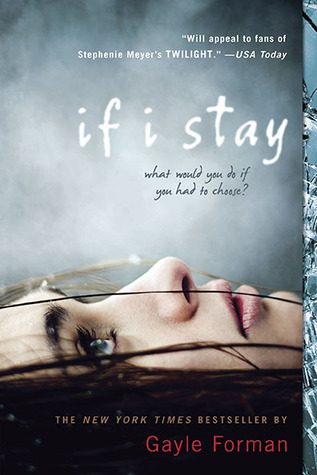 Author: Gayle Forman
Pages: 262
Published: April 6, 2010
Genre: YA, Romance, Contemporary
Rating: 3/5
Originally I gave this novel a 4/5 but after having thought about it for a while, I think a 3 better represents my feelings.
Mia, a cello player with a younger brother and two loving parents, was in a massive car accident with her family. Now trapped in an alternate reality where she can see and hear everything happening around her, but her body is in a coma, Mia must decide if she will stay and wake up from the coma, or give up and go to be with her parents who were killed instantly in the crash.
The story flips between the present and the time building up to the car accident. A very quick read that I got through in a few days, If I Stay was a pretty good story that was entertaining, but was nothing mind blowing.
I didn't hate it, but I didn't love it. It was a pretty simple story that didn't evoke any sort of emotion out of me that I expected. A slight disappointment, but overall an okay read.