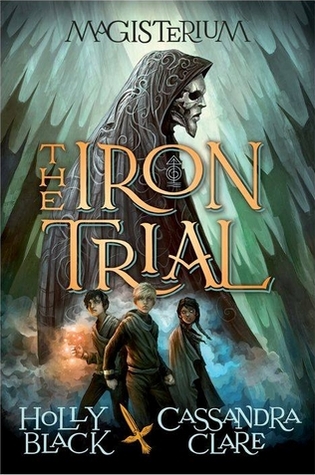 Author: Holly Black & Cassandra Clare
Pages: 295
Published: September 9, 2014
Genre: Middle Grade, Fantasy, Magic, Paranormal
Rating: 5/5
I freakin' loved this book so much! I can definitely see why some people were comparing to to Harry Potter. However, I think that comparison only fits if you take the book at face value.
The Iron Trial is book one in the Magisterium series by two YA powerhouses. This book tells the story of Callum. A teenage boy that has magical abilities but has yet to utilize them as his father refused to let him. Callum's mother was killed in a magical war not too long after he was born. Callum's father found his mother's body and saw that she had scratched "Kill the child" into the wall of the cave where she was killed.
Fast forward a few years to when Callum is chosen to attend the Magisterium, a special school created for the most talented of kids to learn how to harness their magical abilities. Dead set on flunking out, Callum has no intention of trying to learn anything while there.
After making two of the best friends that he has ever had and finding a stray wolf pup in the woods, Callum needs to decide if he is going to stay through his first year at the school or quit when given the chance. Callum is thrown through quite a few loops while at the Magisterium and learns who he really is.
I really really really liked this story and can't wait to read the next one!