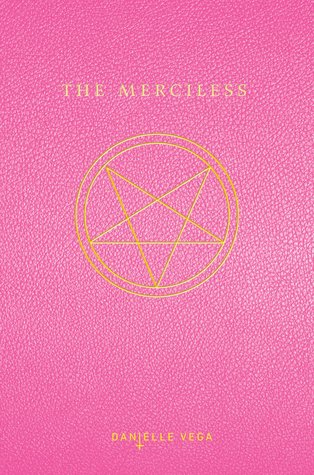 Author: Danielle Vega
Pages: 279
Published: June 12, 2014
Genre: YA, Horror, Thriller
Rating: 5/5
The Merciless by Danielle Vega has been receiving a ton of hype in the book community since it was published this past summer and honestly, it's for good reason. As an avid horror reader I was skeptical that this novel would live up to the hype for me. But thankfully, I was proved wrong as I rated this a novel a 5/5.
Sofia is a new girl in school and is trying to make it through the next six months with no problems so that when she moves away again with her military family, she won't have any problems. After cutting her finger open in the lunchroom, a girl named Brooklyn approaches her and gives her a bandaid. Brooklyn seems nice enough and Sofia thinks she might actually have made a friend.
Riley inserted herself into Sofia's life with no input from Sofia on the first day of school. After Sofia discovered a dead cat behind the bleachers, Riley approaches her and informs her that Brooklyn is most likely responsible. Riley then introduces Sofia to her group of friends and proceeds to inform her that Brooklyn used to be friends with them but has since "changed".
Sofia is wrapped up in Riley's delusions about Brooklyn before she can get away. This novel has been compared to Mean Girls, but I honestly think Mean Girls seems like a kids movie compared to the brutality in this novel.
I felt myself cringing multiple times after reading the climax of the plot and enjoyed every second of it. Danielle Vega has entered the horror genre in a brilliant way and I look forward to reading more from her in the future.