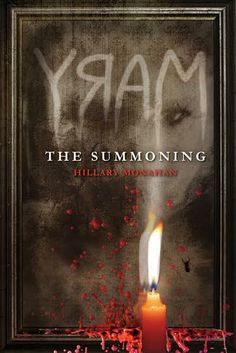 Author: Hillary Monahan
Pages: 256
Published: September 2, 2014
Genre: YA, Horror, Paranormal
Rating: 5/5
A brilliantly executed Bloody Mary story, Mary: The Summoning will keep you on your toes from the first page to the last. Jess and her group of friends decide to summon Bloody Mary in typical teenage fashion. But what her friends don't know is that Jess has been doing research on her own to determine the most successful way to summon Blood Mary.
Now her friend Shauna is being tortured by Mary, and everyone is at a loss for how to stop this. Shauna must uncover the history of Mary to determine why she has come through so strongly and why she latches on to whoever summons her.
This was my second Bloody Mary retelling that I read so far this year and honestly it was my favorite of the two. Hillary Monahan wrote a terrifyingly awesome novel about Bloody Mary that will pull you in from the first chapter and leave you wanting more at the end. The sheer brutality of this story was what I loved the most about it. Right from the start Mary is out of the mirror and ready to make your life hell. An awesome YA horror novel and I absolutely cannot wait until the second one! 5/5